Sunday

August 10, 2014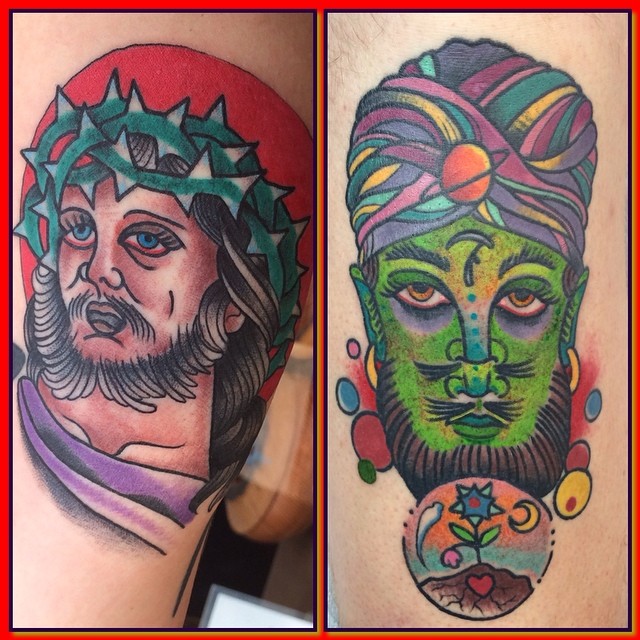 Christ and Soothsayer tattoos done recently
I am just coming back from much needed time away with my family. I was desperately in need of some time off and I'm grateful to have been able to disconnect for a short time. Though my time away wasn't quite long enough I am feeling refreshed and looking forward to making art; both tattoo and otherwise. I have been building a line design, sketch book full of patterns I would like to tattoo. Please ask to see it if you are looking for inspiration. I would be happy to tattoo each and every design in this ever expanding book. I am getting ready to scale back my tattoo schedule a bit so that I can place more attention on each individual tattoo project. I am also building a body of fine art/ folk art pieces that will be on display during a month long solo show coming in 2015. I will be putting out more information about this as the project unfolds. By scaling back my tattoo schedule I will also be able to devote some more attention to nurturing the business side of Graceland Tattoo. I'm also in the midst of redesigning this website. I'm hoping to create an internet presence that will more accurately reflect my perspective and my work at the place in time.
Graceland Tattoo has been thriving. I am happy to say Geoff Horn from Hole in the Sky Tattoo in Woodland Park, NJ will be tattooing with us 1 day a week. He has a very interesting body of work. Geoff makes some powerful images in the American tradition as well as large scale Japanese tattoos.
Cookie has been making a lot of clients happy during his time at Graceland Tattoo and he will be increasing his number of days at Graceland Tattoo in the next few months. This should help to keep up with the demand of our awesome clients. Evan and Joe have been making some really great tattoos and building their client base with each tattoo they make. It's really nice to see the team that has been assemble within the walls of Graceland Tattoo.