Thom deVita Saved My Life
Monday

October 01, 2012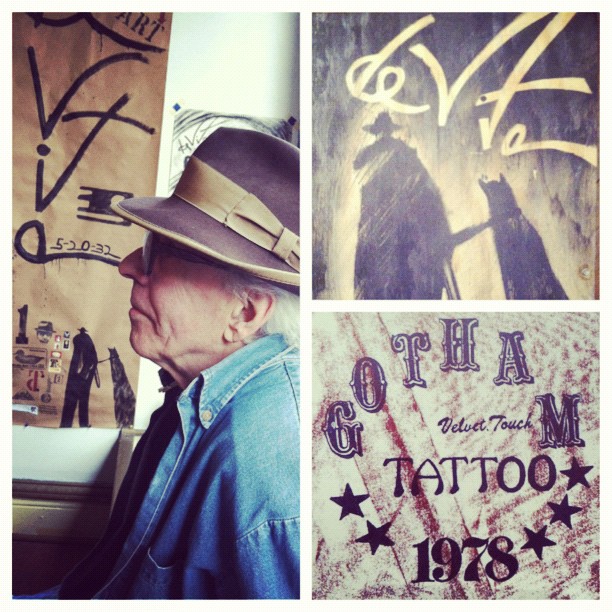 I woke up Saturday and prepared for work. Grabbed my coffee and went through my other daily rituals then settled in at the tattoo parlor; I realized I wasn't scheduled to work. I thought I should stay and most likely I'd pick up a few walk ins. Like millions of other people, I looked at my instagram feed. There was a post from Chris Grosso of Tattoo Age and Vice.com. It simply said, "Come up to Newburgh for Thom deVita's open studio 11-5." For those that don't know; Newburgh is just about 20 minutes from me. I guess I would scrap the walk ins and head over to the open studio. Although Mr. deVita lives in Newburgh I have never reached out to meet with him. Largely in fear that someone I've admired for quite some time would be unresponsive to me requesting a visit. This was my chance to meet this legend. I went to see his showing with my wife Keely and fellow tattooer Joe "Pepper" Maher. It was really intense seeing him and a large selection of his work on the walls. There was nothing pretentious about the show. In fact the walls weren't prepared in the classic sense (stark white walls and focused lights). One wall was green like the flesh of a lime. The other was a poorly primed white wall, the remains of royal blue bleeding through. It looked like an empty apartment after college had let out for the summer. For some people hanging their work, that might have mattered. However, I don't know if it did for Thom. There were no apologies. For those of you who know deVita's work it can be primal, archaic and crude. But it's beautiful and calculated and has an esthetic weight to it that may, at times, be overlooked.
I also was lucky enough to have an opportunity to meet and talk with another artists who's work inspire me, the great Scott Harrison. Scott and his work have always had a magical quality to me. In fact, I have a pencil sketch of Scott's in my parlor and look at it everyday. Even though it's nothing more than led pencil on wrinkled up tracing paper it is an important piece of my art collection. Scott was approachable and warm. Having such a close relationship with Thom, Scott seemed to have a sense of pride in Thom, his body of work and the open studio.
As of late I have found myself in some weird head space, both as a tattooer and a visual artist. It's something I'd rather not get into publicly but it is worth mentioning. I think in some odd way my encounters with Thom deVita were a life line of sorts. I'm inspired by our conversations and I now have a different perspective of things in my life as a maker of things. It was a gift to spend a few hours with Mr. deVita. In fact, the following day...I went back. I had a few more hours of nearly uninterrupted conversation. I listened as he told me stories of his time with Mike Malone, his disgust for comic strips and his love of duplication. There's a special place in his heart for panther images and his eagle stencil. We talked about inspiration and what he thought art was. He gave me a glimpse into what he hoped his legacy would be. Mr. deVita helped me to uncover things I already new, things I never even thought to consider. We sat on an elevated windowsill like two friends fishing on a dock. We were flanked by empty clementine crates and discarded sweet potato boxes that now spill over with stencils and stamps; images of daggers and panthers opposite the crucifixion and the sacred heart. Tattoos are re-purposed and hung on the wall. There were also two black portfolios stuffed with rubbings and paintings and reminded me of an old man's wallet crammed with years of whatever it is he did.
When you're with Thom; if you are present, if you are still, he is open. There was a good deal of self reflection for Thom deVita, which I suppose you might expect from a man, now 80 years old who has committed his life to making art, tattoo or otherwise.