deVita: The Buck Stops Here.
Monday

January 14, 2013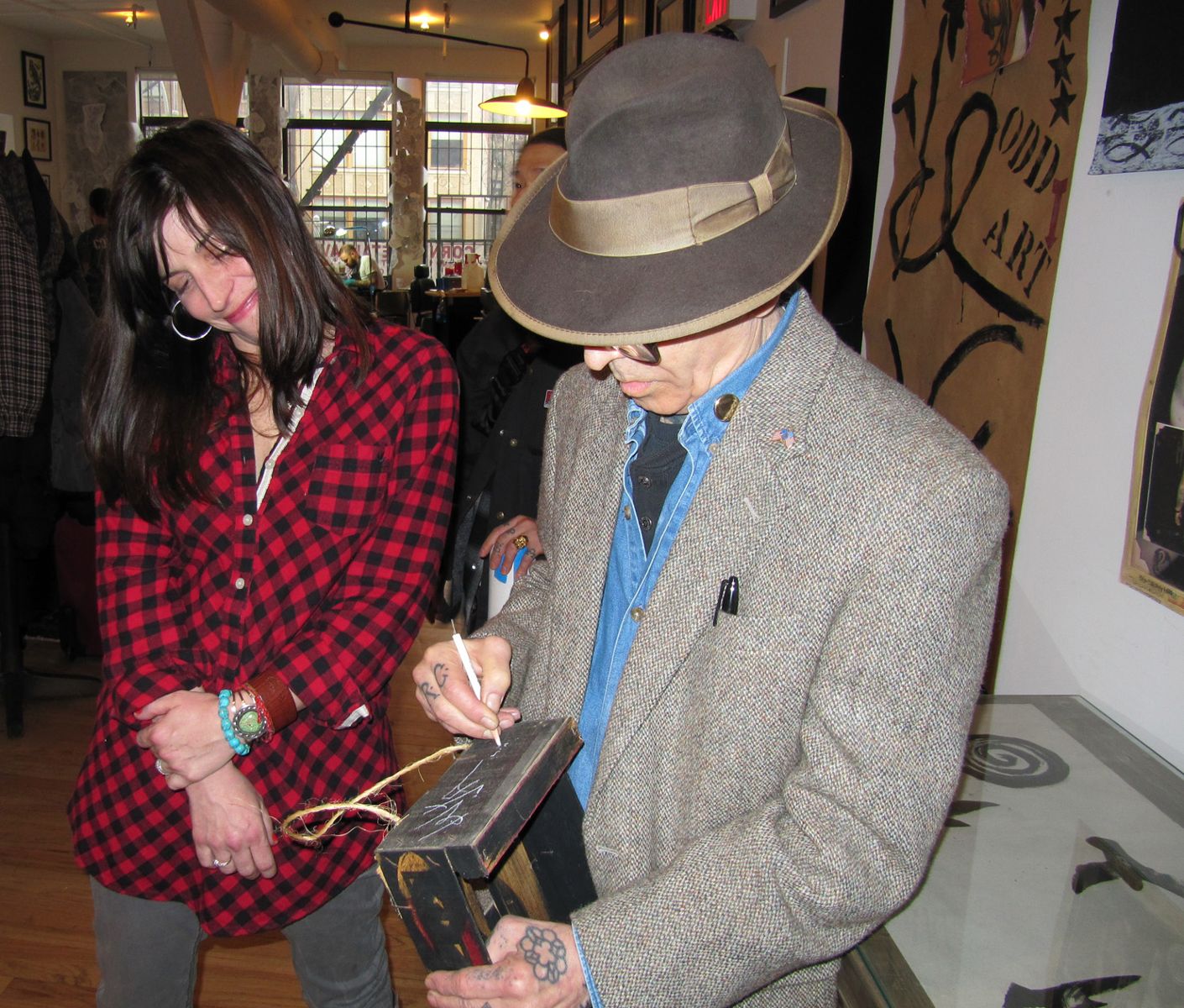 The "pop up gallery" is a phenomenon that is refreshing yet pragmatic. It's something doable for artists who may not have the resources to establish a long-standing art gallery yet, still show their work or the work of others. Often times these galleries take shape in empty spaces or open in unsuspecting locations that aren't in use. The term pop up gallery is loosely used to describe the event that went down this weekend (January 11-13, 2012) at Kings Avenue, NYC.
Ask any tattooer and they know about Kings Avenue. It is one of the premiere tattoo studios in NYC, the nation and the world. Known for housing some of the most important tattooers working today it also attracts high profile guest artists from every corner of the globe. That being said, the space for Thom deVita's "pop up gallery" is anything but an empty space or an unsuspecting location.
For many, Thom deVita has an important place in our hearts. His courage to break constructs has shaped who we are and pushes us toward who we might become. I have already shared a bit of my first encounter with Mr. deVita in an earlier blog that was later shared by Tattoo Artists Magazine, so I would ask if you didn't read it, go to the TAM Blog. This essay is about his latest show. If you haven't seen Mr. deVita's episode of "Tattoo Age" do yourself a favor and watch it. You can find the series, produced and directed by Chris Grosso, at VICE.COM.
Chris Grosso is the mastermind behind the incomparable Tattoo Age series from Vice Media; a canon of documentaries that has been gifted to the tattoo community. Each one is exciting and honest. Though the artists featured in each installment are unique in their style, approach and biography, the films are consistent in their content and sensibility. Grosso has done something important for the tattoo community. He has invigorated the base and shed light on some very important players, for those who are in the dark. His latest effort is the 5 part series on Thom deVita. This is an insightful and courageous choice. The documentary is complete, but deVita's last showing at Kings Avenue still feels very much an extension of the record.
"The Buck Stops Here", Thom deVita's 3 day show, opened Friday, January 11th and judging by my instagram feed it was a huge success. I wasn't going to be there untill day 3 so I checked in from time to time to feel a part of it. The sky was gray and wet, and the FDR was quiet on Sunday morning as my wife Keely and I headed down to the Bowery. We arrived with time to spare, so we ducked in for some late morning drinks. I finished up my cigarette as I rounded the corner, just in time to climb the stairs to Kings Avenue. Opening the door we were greeted with a smile and a handshake by the one and only Scott Harrison, who came out of retirement to make a few tattoos during the event. I was lucky enough to look through some of his painted flash, of which he says he has never sold a sheet, and watched for a while as "bswelt" tattooed the inside of some lucky dudes arm. Oliver Peck was hanging out and making tattoos as well, and I learned he has the largest collection of Harrison art there is. Oliver bought the sacred heart deVita painted on a tangerine box. That was the piece I wanted to add to my collection, but I was too late and it didn't really matter...every time you blinked your eyes there was another piece to connect with. As Thom told Keely, "I have 50 years of making art with no outlet". Later on I saw Grez had tattooed that same sacred heart on a young ladies leg. He nailed it. It had all the subtleties of the reference. That night I saw a photo of Thom, Grez and the young client. Thom was inspecting the tattoo proudly. Even in the picture you could see he was touched.
I was able to steal a few moments with Stephanie Tamez and Virginia Elwood, who came back a second day and bought a several pieces from Thom. I think collecting Thom's work is addicting. So many great tattooers were out to show their respect. I know so many of my friends were miles away, but were there in spirit. I guess I am just fortunate enough to live just outside NYC so making the short trip wasn't an issue. People came and went, many of them with a white tube in their hand. I found myself wondering what they bought, was it one I wanted?
For a time I sat with Forrest Cavacco, of Cobra Custom, in Plymouth, Mass. We were soaking it all in. Being in attendance was definitely energizing, we all need that sometimes. In walked Robert Ryan and Daniel Higgs. It's always great to see Robert, the few encounters I have had with him. Robert carries himself with an awareness that can only be developed honestly, you can't manufacture it. His work is immediately identifiable, the images powerful. He, along with others in the room, are a part of the deVita "family tree". Disciples?
Regarding Higgs; there isn't much to comment on other than the fact that for me, seeing Higgs is kind of like seeing big foot.
Keely and I bought a tangerine box of our very own. It had negative silhouettes of two wine bottles. Deep, dark, black snakes were slithering between them. There were some great stamps on the sides, and it had deVita 5.20.32 scratched in white grease pencil. As we walked the street on our way out of town, I thought about hanging this piece in my tattoo shop, but I know it will never make it out my front door. It belongs in our home.
I'm glad to have made it to Thom deVita's pop up gallery to show support and love for a man who has done so much in so many ways for tattooing, tattooers and contemporary art. He was back in the lower eastside of NYC where he spent so many years tattooing underground. I am comforted to know Thom deVita is getting the attention he has earned. As he stood against the chest of drawers beneath his body of work I wonder if he picked up on how much he is loved. On second thought, I'm sure he did.