Haps on the craps
Friday

February 01, 2013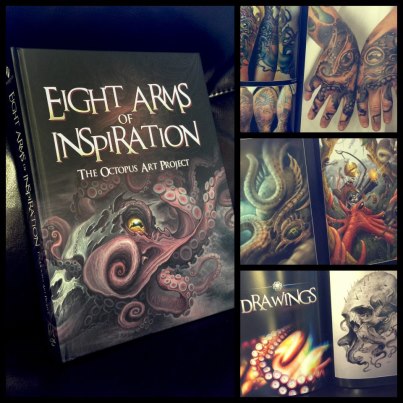 A lot has been going down. The shop has been busy and that's always a good thing. I was fortunate to have another blog posted on Tattoo Artist Magazine's TAM BLOG. It was yet another piece on Thom deVita. This time, my adventure to King's Avenue NYC for deVita's pop up gallery. I'm hoping to persue writing more. I have been busy painting and have a few projects in the works. I will be heading up to the Roc City Tattoo Expo again this year with a set of flash to tattoo and a limited number of high quality sets to sell.
I've been involved in some other projects that I will fill you in on as things unfold. I'm proud to say my painting, " The Mighty Octopus" is featured in the book Eight Arms of Inspiration out later this month by Memento Publishing and Out of Step Books. I have prints of that available of that painting if anyone is interested.
And in 2 weeks (February 14th) I will be celebrating the 10th anniversary of my labor of love GRACELAND TATTOO. I will be throwing a big bash this spring. It's just too damn cold in February.
Thanks for reading- Adam